a
Sea Air Space 2016 Online Show Daily - MARSS
SAS 2016: MARSS launch mobile version of its NiDAR security system

MARSS launch the NiDAR Expedition Package to combat asymmetric threats to Naval vessels at the Navy League Sea Air & Space Exposition 16th – 18th May 2016. MARSS, with the support of the European Commission and in conjunction with the North Atlantic Treaty Organisation (NATO), has developed the Marss NiDAR security system to provide local area surveillance and protection to vessels against asymmetric attack.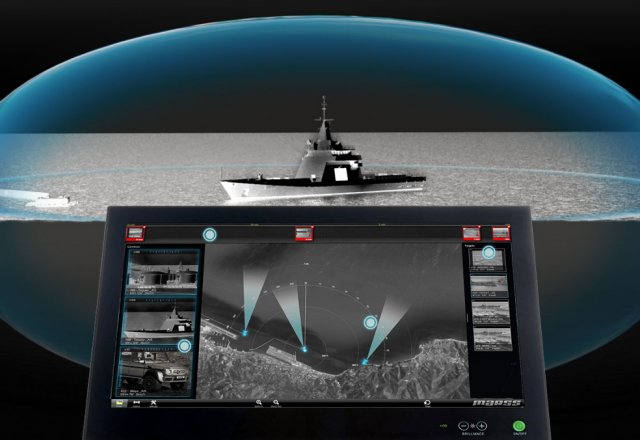 MARSS' NiDAR security system provides 360° surveillance for surface vessels against assymetric attack
(Credit: MARSS)
The NiDAR Expedition Package, a mobile version of the NiDAR system, has been specifically developed for Naval and Coastguard ships when operating out of unfamiliar, unprotected ports and in littoral areas where they are exposed to the asymmetric threats posed by swimmers, divers and small fast boats.
Ships are particularly vulnerable in these situations because when they are engaged in constabulary or humanitarian operations or in harbour, the Combat Information Center (CIC) / Operations Room may not be fully manned. Blue water ASuW/ASW sensor packages are not designed for this cluttered fast moving environment. Furthermore in complex operating environments, busy with civilian traffic, a graduated response to threats is required.
NiDAR seamlessly integrates a suite of sensors including radars, EO/IR devices, Automatic Identification System (AIS) and sonars, automatically detecting, classifying and tracking surface and sub-surface contacts to create an intuitive situational awareness picture that can be displayed in the CIC or on the gangway/bridge and on authorised remote and mobile devices. Alarms are raised automatically and can be linked with non-lethal countermeasures such as surface loudhailers and laser dazzlers which can be activated through the touch screen. This permits the confirmation of intent and a graduated escalation/de escalation within Rules of Engagment (RoE).
NiDAR Expedition offers the following benefits:
• Early Threat Detection: sensors specifically designed to detect divers/swimmers and fast moving small craft.
• Intelligent automation: single intuitive user interface, low false alarms.
• High availability and reliability: robust, modular design and no maintenance provide low cost of ownership.
• Highly tuneable response: can be integrated with non-lethal countermeasures.
• Flexible operation: can operate independently of operations room.
• Lean manning: minimal training requirement, no dedicated operator necessary remote access possible from the gangway or patrols.
The MARSS team will be delighted to demonstrate the NiDAR Expedition Command & Control system at the Sea-Air-Space Exhibition 16-18 May 2016 at the Gaylord National Convention Center, Maryland Booth 1116.