a
DSEI 2017 - Naval Show News
BMT VENATOR-110 Frigate Scale Model at DSEI 2017
BMT Group is showcasing a scale model of the VENATOR-110 frigate at DSEI 2017, the international defense show currently held in London, UK. The design is a contender

for UK's Type 31e frigate program.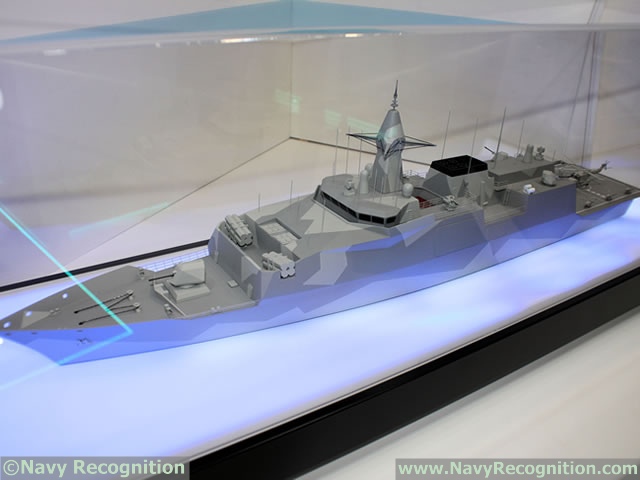 BMT's VENATOR-110 scale model at DSEI 2017
A flexible and tailorable modern warship, able to provide a breadth of credible capability from maritime security to warfighting, worldwide, at an affordable procurement cost, the VENATOR-110 Frigate design is also gaining traction through several overseas opportunities such as the US FFG(X) and Colombian PES programmes.



VENATOR-110 is a standard platform with a flexible/modular approach enabling different customers to have a 'menu of choice'. It is also a design configured for 'block-build' enabling different parts to be built in different shipyards.



BMT's VENATOR-110 scale model at DSEI 2017
Analysis of military specifications and requirements have led to 3 different design variants of the VENATOR-110, each devised to suit intended role and affordability:
- General Purpose Light Frigate
- Patrol Frigate
- Patrol Ship

VENATOR-110 variants differ both in terms of the platform and combat system equipments fitted and also the internal specification of the ship itself, including platform survivability.

General Purpose Light Frigate Specification
Length (overall): 117 meters
Draught: 4.3 meters
Displacement: 4,000 tonnes
Maximum beam: 18 meters
Top speed: >25 knots
Range: 6,0000 Nm at 15 knots