a
DSEI 2017 - Naval Show News
DSEI 2017: Royal Canadian Navy orders over 40 Hammerhead targets from Qinetiq

The Royal Canadian Navy (RCN) has placed a C$4.7m order with QinetiQ Target Systems for over 40 Hammerhead Unmanned Surface Vehicle Targets and various payloads. The order is placed under an existing five-year, C$35m framework contract with the Canadian Department of National Defence, awarded in May 2016, for provision of surface and aerial target systems.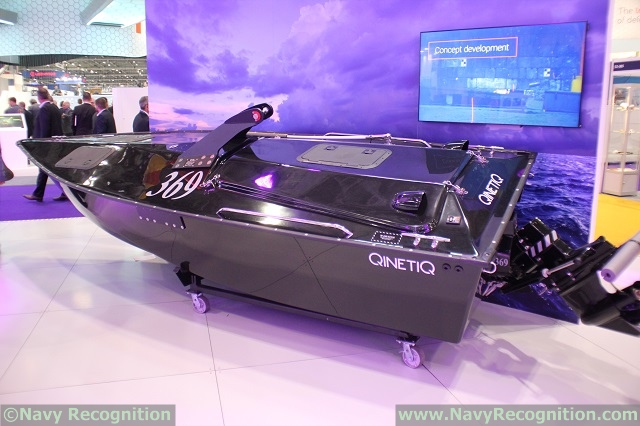 Hammerhead USV target at DSEI 2017
The deal brings total worldwide Hammerhead orders to over 425 – the highest of any surface target in production.

The Hammerhead, fitted with a wide variety of threat emulating payloads, enables ship operators to train against the piracy threat by simulating Fast Inshore Attack Craft. The targets can be controlled in large swarms to replicate a coordinated attack by multiple vessels.

Peter Longstaff, Managing Director of QinetiQ Target Systems, said: "The Hammerhead is continually proving to be a cost effective and high performing surface target for the RCN and several other customers around the world. The RCN is a very important client for us and we are extremely proud to manufacture the Hammerhead in Canada. QTS manufactures its advanced unmanned vehicles targets from its state of the art manufacturing facilities in Medicine Hat, Alberta and Ashford Kent, using a deep supply network across both respective countries."

QinetiQ Target Systems (QTS) was formed in December 2016, when QinetiQ invested £57.5m in the acquisition of Meggitt Target Systems.

Iain Farley, Managing Director International, QinetiQ, said: "Through the creation of realistic scenarios, rigorous testing and live exercises, we are committed to optimising customers' operational capability. The nature of warfare is evolving at an unprecedented pace, creating a growing global need to validate defence and security capabilities against new and emerging threats. The formation of QTS adds several cost-effective naval, aerial and land-based target systems to QinetiQ's suite, which are integrated with our firmly established infrastructure to further strengthen our service. This is part of our strategy to modernise test and evaluation for our customers and drive growth of our core capabilities in international markets."

A full-scale model of the Hammerhead target is on display at DSEI, QinetiQ stand S2-550.