a
DSEI 2017 - Naval Show News
DSEI 2017: Norsafe Developing USV in Joint Initiative with Kongsberg Maritime
Norsafe has been working alongside Kongsberg to develop an Unmanned Surface Vessel (USV) to act as a combined autonomous and data collection platform with different sensors.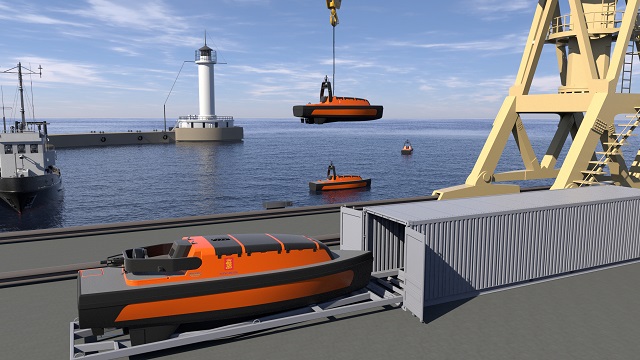 Artist impression of Norsafe / Kongsberg USV
Kongsberg selected Norsafe AS as a partner for multi-purpose USV manufacturing because of their well-known reputation for building robust and high quality crafts for extreme environments. Throughout the process of finding the right partner, Norsafe showed the capability of creating an innovative and robust design, which fitted well to Kongsberg's requirements. The final design will be a strong competitor in the emerging market of USV Solutions.

Ideal for military and commercial maritime use, the USV has been designed to be robust and durable with easy servicing and the flexibility to allow for fast equipment changeovers.

Norsafe has used its years of experience and skill to design a vessel that is stable on the water with minimal vibration and optimised for low air disturbance under the hull. These features are essential in providing nominal disturbance to the sensitive sensor equipment on board.

The USV has been designed for simple transportation either by road trailer or containerised on deck.

"We are delighted that Kongsberg approached us to take part in this joint initiative. Unmanned vessels are certainly useful in certain circumstances, especially in dangerous situations where the risk to human life is great." said Dag Songedal, CEO for Norsafe.

"We supply the military market with a range of patrol and assistance boats and used this experience to help develop and design the USV together with Kongsberg," he added.