a
DSEI 2017 - Naval Show News
DSEI 2017: 155mm Vulcano Precision-Guided Munition Showcased for the 1st Time

Leonardo and BAE Systems were showcasing a 155mm variant of the Vulcano precision-guided munition for the first time last week at DSEI, the international defense show held in London, UK. Back in June this year, the two companies have announced an initiative to pursue collaborations on new precision-guided solutions that will offer U.S. and allied military forces a range of low-risk, cost effective, advanced munitions for advanced, large caliber weapon systems.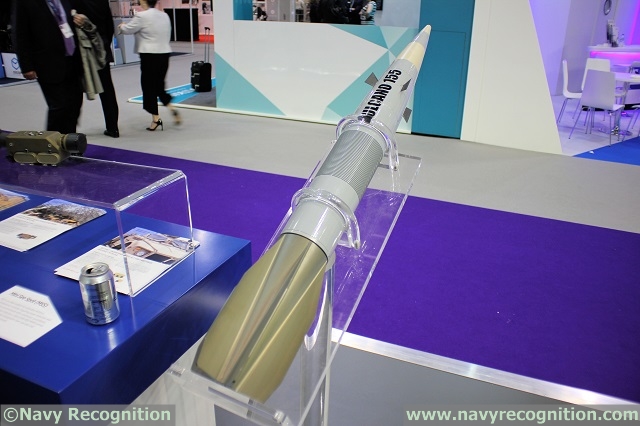 Vulcano 155mm on Leonardo stand at DSEI 2017
The two companies anticipate offering new adaptations of Leonardo's Vulcano — a family of gun-launched munitions that exceed the performance of currently available precision-guided projectiles — in a variety of gun systems, including the BAE Systems-built Advanced Gun System (AGS) and the Mk 45 naval gun. The AGS is currently on board the U.S. Navy's Zumwalt class of destroyers, and the Mk 45 is widely used by the Navy and allied nations.

The Vulcano family offers significantly greater range and precision, and is compatible with multiple land and naval platforms including 155mm and 5-inch (127mm) gun systems to defeat air, land and sea threats. The Vulcano family capitalizes on new and emerging technology based on a fin-stabilized airframe with canard control for extended range and terminal guidance, with mechanical interfaces that are the same as standard ammunition.

The latest adaptations of Vulcano are compatible with the majority of in-service artillery systems including Leonardo's 127/64 LW and 127/54C naval guns, the BAE Systems-built Advanced Gun System (AGS) currently on board the U.S. Navy's Zumwalt class of destroyers, and the more than 250 Mk 45 naval guns delivered to fleets worldwide. For land platforms, Vulcano can be fired from all variants of BAE Systems' M777 and M109 howitzers and the majority of weapons for allied militaries around the world.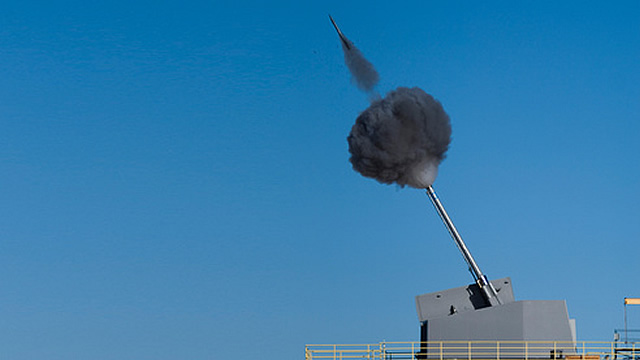 BAE Systems AGS, the DDG 1000 Zumwalt class main gun, during land based trials firing the Long Range Land Attack Projectile (LRLAP) pictures: BAE Systems

Talking to Navy Recognition during DSEI 2017, John Perri, Director of Business Development at BAE Systems / Weapons Systems explained "Because BAE Systems is the OEM of the AGS and Mk 45 – as well as M777 and M109 – it's easier for us to integrate Vulcano into these weapons. On AGS in particular, Vulcano's design makes it much more adaptable to the automated handling system."

Asked whether BAE Systems/Leonardo is ahead of the competition, Perri replied "Compared to existing munitions, the Vulcano family offers significantly greater range and precision and is compatible with multiple weapons including the 155mm Advanced Gun System on the Zumwalt-class destroyer and 5-inch Mk45 gun systems. No other system is available in the U.S. with this range or the adaptability that the Vulcano family has for 5-inch and 155mm caliber weapons."

"Our two companies recognized a need across other naval and land artillery platforms – for both U.S. and allied nations -- for a production-ready, extended range precision capability.There are also future options for terminal seekers on Vulcano to address moving targets." Perri concluded.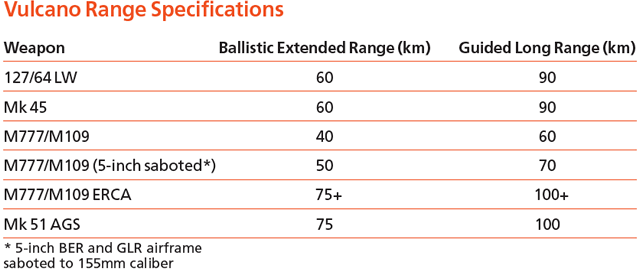 BAE Systems chart

The Vulcano 155mm projectile gives 39-caliber howitzers the capability to extend their range and precision well beyond current limits, minimizing engagement costs and collateral damage. The Vulcano 155mm GLR is a sub-caliber, fin-stabilized airframe, compatible with standard modular charges, with no additional on-board propulsion required. With a highly lethal payload consisting of insensitive explosive fill and a pre-fragmented warhead, Vulcano 155mm has the same mechanical interfaces as standard 155mm ammunition.

The Vulcano ammunition configuration for naval guns can be automatically loaded without any mechanical modification to the loading system. Vulcano is fully compatible with in-service 5-inch and 155mm guns with additional functionality including:
• Programmable initialization for fuze and guidance system
• Mission planner and technical fire control for trajectory computations, gun fire angles, selection of ammunition type and firing sequences.