a
IMDEX Asia 2017 Online Show Coverage - IMR Ceremony
Pictures: RSN International Maritime Review Ceremony
President Tony Tan Keng Yam reviewed the inaugural Singapore International Review (IMR) at RSS Singapura - Changi Naval Base this morning. The IMR was attend by 46 warships and four aircraft, as well as more than 30 navy chiefs, vice navy chiefs and directors-general of coast guards, and more than 40 flag rank officers, from 44 participating nations.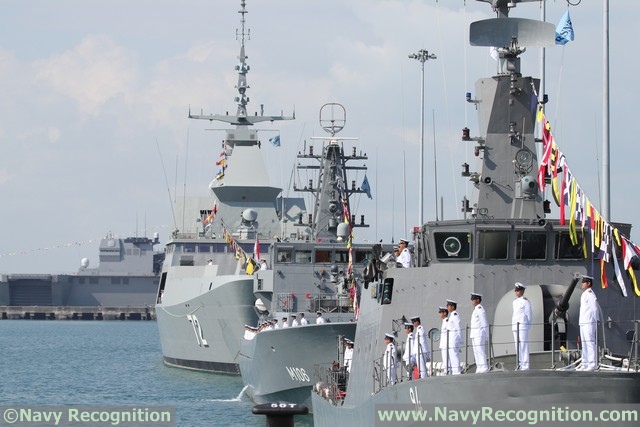 Singapore's IMR ceremony
Speaking at the review, President Tan said that "The gathering of navies around the world for the first Singapore IMR is a testament to the strong friendships and extensive network Singapore enjoys across the world".
During the parade, President Tan also named Changi Naval Base "RSS Singapura - Changi Naval Base", which will serve as a reminder to RSN personnel of the RSN's heritage and vital role in defending Singpore. The Singapore RSN was held as part of the RSN's Golden Jubilee celebrations.