a
IMDEX Asia 2017 Online Show Coverage - Day 1 Picture Gallery
Pictures: Day 1 at IMDEX Asia 2017
Singapore's Minister for Defence Dr Ng Eng Hen opened the 11th International Maritime Defence Exhibition and Conference (IMDEX) Asia at the Changi Exhibition Centre this morning.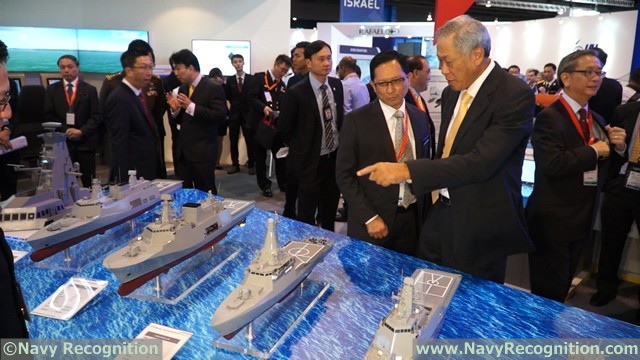 Day 1 at IMDEX Asia 2017
During the opening ceremony, Dr Ng highlighted the importance of maritime trade to Asia, and the need to maintain open sea lines of communication. He said, "The seas around us are strategic and will remain so far into the future." He added that "these sea lines of communication, or SLOCs, must remain open and stable for all to use – SLOCs are the global commons which we and all other stakeholders must collectively protect and preserve. Integral to these collective efforts is dialogue and cooperation, supported by the institutionalisation and acceptance of a rules-based order by all countries."
In attendance at the opening ceremony were about 30 navy chiefs, vice navy chiefs, and directors-general of coast guards, as well as about 40 flag-rank officers from 44 nations. More than 230 exhibitors from around the world are participating in this year's exhibition, while 28 warships from 20 countries are taking part in this year's IMDEX Asia Warships Display.