a
IMDEX Asia 2017 Online Show Coverage - Austal Pacific Patrol Boat
IMDEX Asia 2017: Austal's Pacific Patrol Boat Program draws interest from South East Asia
Austal's Pacific Patrol Boat has commenced construction following the cutting of steel on the first vessel in Perth, Western Australia. The A$306 million Pacific Patrol Boat Replacement (SEA3036) Project is the first element of the Australian Government's A$89 billion Continuous Naval Shipbuilding Program which will includes twelve Submarines (SEA1000), twelve Offshore Patrol Vessels (SEA1180) and nine Future Frigates (SEA5000) for the Royal Australian Navy.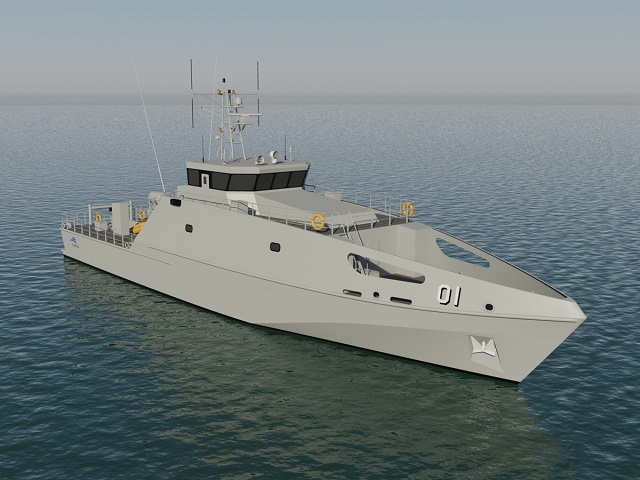 Austal's Pacific Patrol Boat Replacement Project
The Pacific Patrol Boat Replacement (PPB-R) Project comprises nineteen 40 metre steel monohull patrol boats to be gifted by the Commonwealth of Australia to 12 Pacific Island nations from 2018-2023.

Austal was awarded the contract for the PPB-R's in May 2016 following a competitive tender process, against a number of international bidders.

Austal has established dedicated new shipbuilding facilities in Naval Base (Perth), Western Australia to construct the nineteen vessels, the largest steel vessel contract for the company to date.
Minister for Defence Industry, the Hon. Christopher Pyne MP officially started construction of PPB-R's during a steel-plate cutting ceremony held on 26th April 2017.

Austal has a new 3D animated video showcasing the main features of the design
The PPB-R Project is anticipated to create 207 direct jobs at Austal and hundreds more indirectly through more than 325 suppliers located across Australia.

Austal has opened a new office in Cairns, Queensland in readiness to deliver service and support for the PPB-R fleet(s) and their crews, following delivery of the first vessel from late 2018.

With growing interest in the PPB-R capability, from a number of sophisticated Asian operators, Austal is exhibiting a new model of the PPB-R on Stand H05 at IMDEX Asia 2017.