a
IMDEX Asia 2017 Online Show Coverage - ST Marine Endurance 170
IMDEX Asia 2017: ST Marine Unveiled the Endurance 170 LHD
At IMDEX Asia 2017, the international maritime defence exhibition held last month in Singapore, local shipyard ST Marine unveiled a new addition to its Endurance family: The Endurance 170 Landing Helicopter Dock (LHD).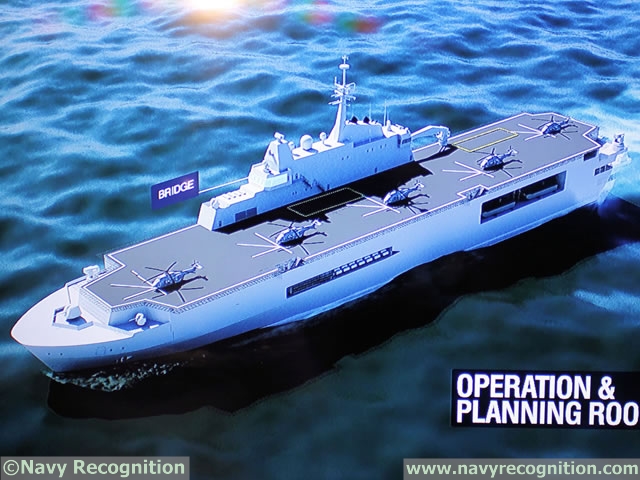 Screencapture from a ST Marine video on Endurance 170
Based on the existing Endurance 160 design, the new vessel was designed as a multipurpose command and support ship for maritime operations. It can act as a command and logistic support vessel for humanitarian assistance and disaster relief and search and rescue operations. The Endurance 170 LHD can also conduct amphibious operations and project power (troops and equipment) via ship to shore connectors or helicopters.

The design features 4,200 square meters of helicopter deck and 5 helicopter spots on the flat deck. The hangar deck measuring 2,050 square meters can accomodate up to 10 medium size helicopters.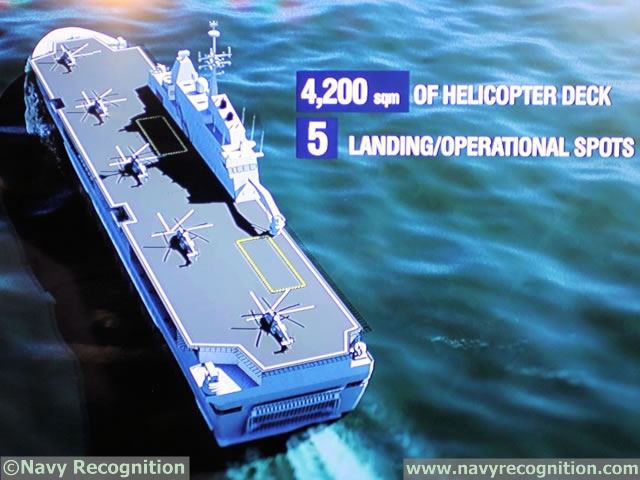 Screencapture from a ST Marine video on Endurance 170
The design features a well deck as well which can launch and recover four landing craft. Vehicle decks can receive 17 MBTs and 16 armored vehicles.

In terms of sensors and systems, Endurance 170 base configuration consists in a 76mm main gun, 4x 30mm secondary guns, 2x RAM launchers, 16x VLS for SAM, a fire control radar, a 3D surveillance radar, C-ESM and R-ESM sensors, two electro-optic sensors.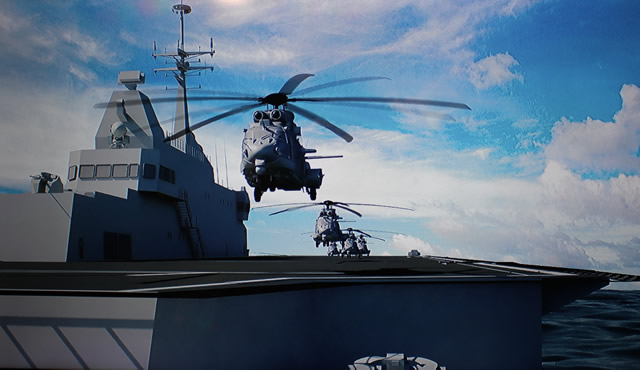 Screencapture from a ST Marine video on Endurance 170
The Endurance 170 has a length of 170 meters, a breadth of 30.80 meters, a draft of 6.60 meters for a full load displacement of 19,000 tons.

The ship crew complement is 140 sailors, the air crew 150 sailors and the vessel can accommodate 400 troops.

The design has a maximum speed of 20 knots, a range of 7000 nautical miles at 15 knots and an endurance of 30 days at sea.

ST Marine has both the domestic and export market in sight with this design. As we reported in February during NAVDEX, ST Marine teamed up with local shipyard ADSB to propose an LHD design to the UAE Navy.

The Republic of Singapore Navy (RSN) is also known to have a future requirement for a large amphibious vessel to supplement its existing, ST Marine-built Endurance-class of landing platform docks (LPD). The RSN operates four LPDs of this class displacing 8,500 tons. ST Marine is likely to face a fierce competition from international shipyards however. DCNS of France was showcasing its Mistral-class LHD and Huntington Ingalls Industries of the United States was showcasing its LPD 28 (USS Fort Lauderdale) design during IMDEX Asia 2017.