a
Focus - LMV RSS Independence
Aboard the Republic of Singapore Navy's Next Generation LMV RSS Independence
During IMDEX Asia 2017, the international maritime defence exhibition held last month in Singapore, Navy Recognition had the chance to get aboard the latest addition to the Republic of Singapore Navy's (RSN) fleet: RSS Independence, the first of the next generation Littoral Mission Vessel, designed and built by local shipyard ST Marine.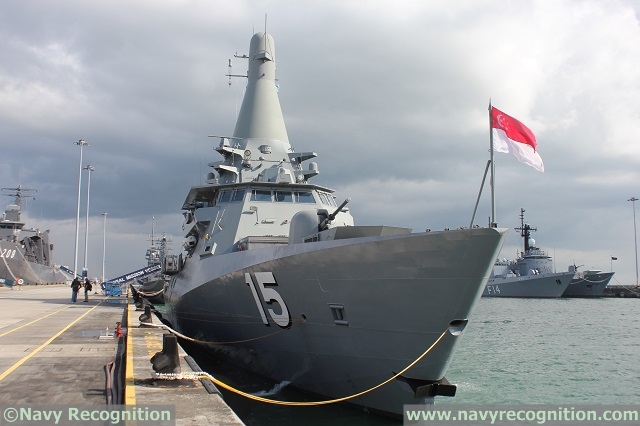 RSS Independence, the first of the Littoral Mission Vessel, seen here pierside at RSS Singapura - Changi Naval Base.
In January 2013, Singapore's Ministry of Defence signed a contract with Singapore Technologies Engineering Ltd for the construction of eight LMVs for the RSN. The eight LMVs are currently being built locally by ST Engineering's subsidiary ST Marine (ST Marine), based on a design jointly developed by ST Marine and Saab Kockums AB. The Defence Science and Technology Agency (DSTA) is the overall programme manager and systems integrator for the LMV programme. The eight new LMVs will replace the RSN's Fearless-class patrol vessels (PVs), which have been in service for about 20 years.

Our video coverage on RSS Independence
LMV Overview: Smarter, Faster, Sharper
The new LMVs are highly capable warships designed and equipped with advanced combat capabilities and technologies to further strengthen the RSN's ability in the seaward defence of Singapore and protecting our sea lines of communication.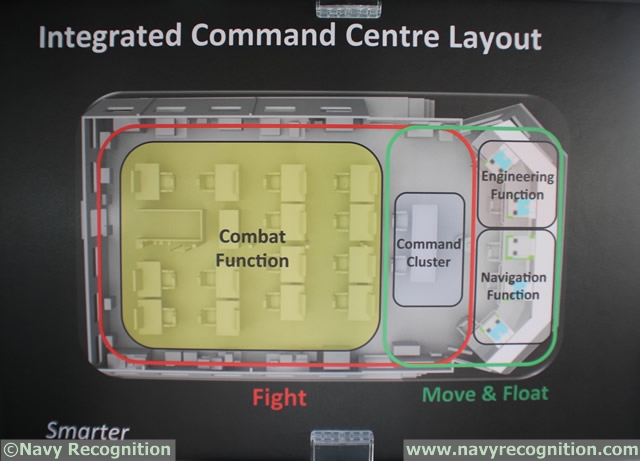 The LMVs are designed with an Integrated Command Centre
Smarter Ship
Innovative Operating Concepts. The LMVs are designed with an Integrated Command Centre where the ships' Bridge, Combat Information Centre and Machinery Control Room are co-located. The Integrated Command Centre integrates and synergises the management of navigation, engineering, and combat functions to achieve greater operational effectiveness and efficiency, especially during maritime security operations.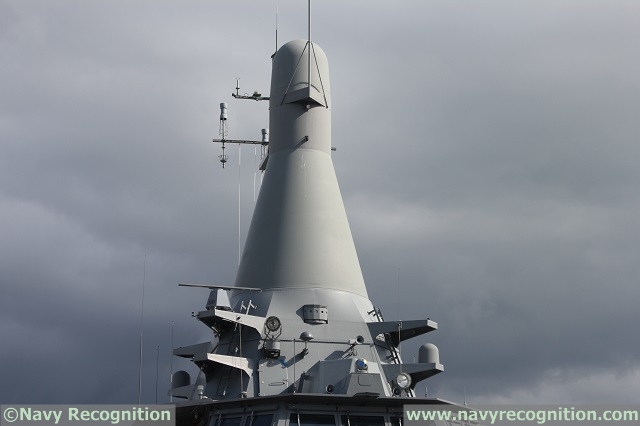 The LMV's Integrated Mast was designed in collaboration with Saab Kockums
Innovative Logistics and Engineering Design. Key design elements for the LMV were incorporated to improve efficiency in logistics and engineering support. In "designing the support", the LMVs' operational readiness will be enhanced as less time will be required for maintenance of the ships. One example is the stacked mast, where 90 percent of the parts that require regular maintenance are housed in an enclosed environment and easily accessible within the mast, instead of outside in most ships' designs. The ship's platform and combat systems' health status can also be transmitted back to shore for centralised monitoring and prognosis of the systems to detect anomalies and plan for pre-emptive maintenance.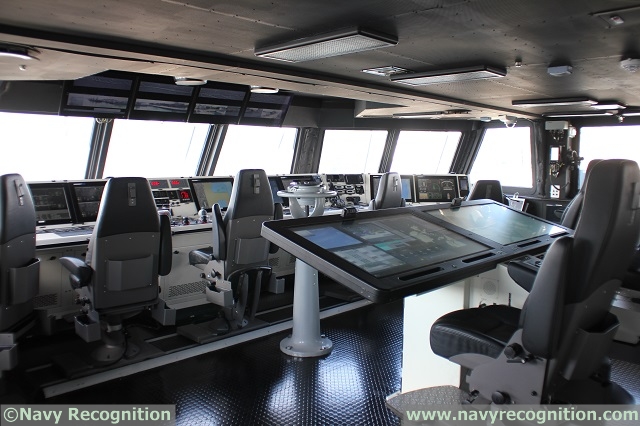 View of the bridge aboard RSS Independence, with the very large, collaborative tablets for the Commanding Officer and his XO.
Advanced Sense-Making and Decision Support Systems. Numerous sense-making and decision support systems, complemented by a high level of automation in the ship, are incorporated into the LMV's combat and platform suite. This will enhance situational awareness and accelerate decision making. The LMVs' Combat Management System features a fusion and identification engine to better identify, track and manage contacts, and a threat evaluation weapon assignment engine to prioritise and assign the relevant weapons to counter threats. The LMVs are also designed with an advanced Integrated Platform Management System, which enhances operational effectiveness and is able to better manage consequences such as engineering defects, or fire and flooding situations.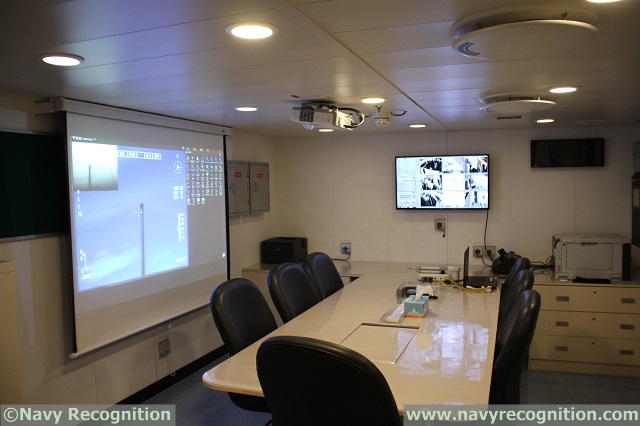 The briefing and command room aboard RSS Independence
Network-Centric Design. The LMVs are equipped with an advanced integrated communication and network system to enable the crew to communicate and share information on board. This includes tracking of the ship's equipment and logistics status as well as crew movement. In addition, the LMVs will be connected to the larger Integrated Knowledge Command and Control network in the Singapore Armed Forces to share information with deployed forces and tap on the expertise from shore headquarters in areas such as operations and engineering support.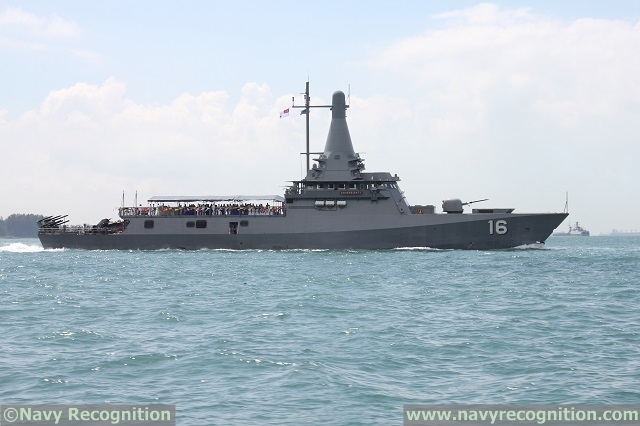 Sovereignty (LMV 16) during the RSN International Maritime Review
Faster Speed
In terms of displacement, the LMVs are 2.5 times larger than the PVs and possess better sea-keeping capabilities to operate in higher sea state conditions. The LMVs also have greater endurance and are able to stay at sea for longer periods of time. In addition, the LMV's ability to respond rapidly to maritime security incidents is further enhanced with its faster speed in excess of 27 knots and the ability to support a medium-lift helicopter. The LMVs are also highly manoeuvrable and can operate in confined and congested littoral waters effectively.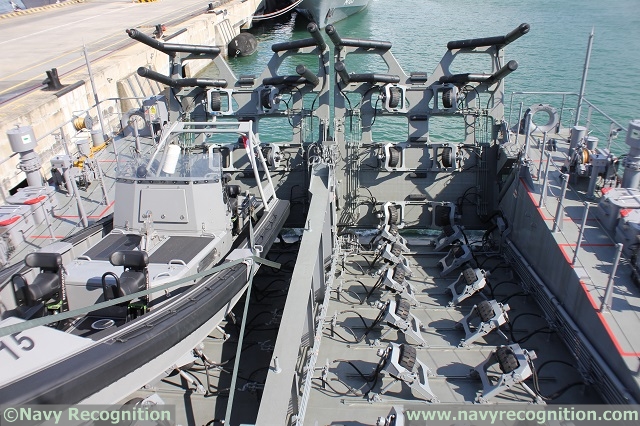 The stern ramps to launch and recover RHIBs
Sharper Capabilities
More Versatile. The LMVs are versatile and can be quickly configured with mission modules to take on a wide spectrum of operations. For example, the LMVs can be configured to embark rigid hull inflatable boats, boarding teams and a helicopter to conduct maritime security operations. They could also be configured with medical modules to support Humanitarian Assistance and Disaster Relief and search-and-rescue operations. In addition, the LMVs may be deployed with unmanned systems for surveillance or mine countermeasure operations.

Calibrated Responses. The LMVs are equipped with both lethal and non-lethal options to deliver calibrated responses to deter or defend a wide range of threats. This ranges from long range acoustics devices, water cannon system, small and large calibre guns, to anti-missile missiles.

Superior Surveillance Capabilities. Equipped with a three-dimensional surveillance radar system and two high resolution navigation radars, the LMVs will be able to detect surface targets better in the congested environment. For target identification, the LMVs are equipped with a 360° panoramic day and night camera suite, comprising an all-round surveillance system and four electro-optics directors, and a 360° bridge that offers an unobstructed view to achieve all-round visual awareness of its immediate surroundings. This is essential in our congested waters where there is a high concentration of shipping and fishing activities amidst island groups.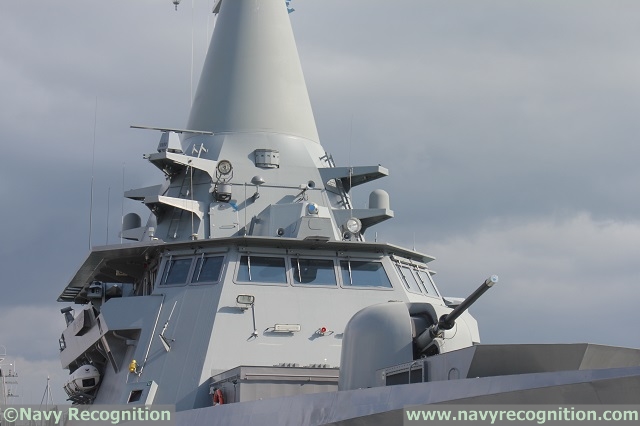 Close Up view of RSS Independence's main gun, pilothouse and integrated mast
Programme Status
The LMV programme is progressing well. The first LMV, RSS Independence, was launched on 3 July 2015 and was commissioned on May 5th 2017. The second vessel, Sovereignty, was launched in April 2016 and should be commissioned soon. The third LMV was launched in October 2016 and the fourth one, Justive, in March 2017.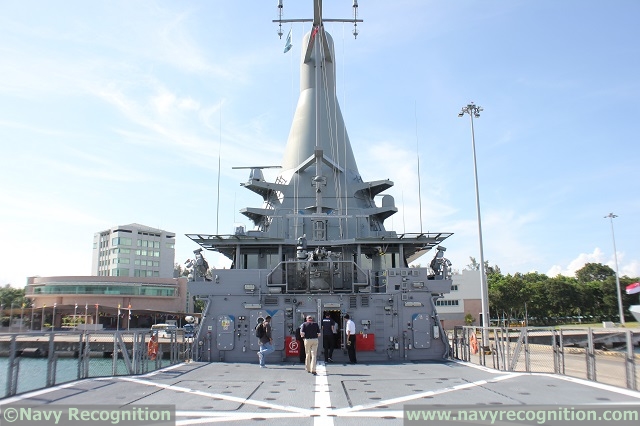 RSS Independence's
helicopter deck
The names of the RSN's eight LMVs are RSS Independence, RSS Sovereignty, RSS Unity, RSS Justice, RSS Indomitable, RSS Fortitude, RSS Dauntless, and RSS Fearless.

Ship Specifications
Length 80 metres
Beam 12 metres
Draught 3 metres
Displacement 1,250 tonnes
Speed in excess of 27 knots
Endurance 3,500 nautical miles (up to 14 days)

Baseline Complement 23 crew

Sensors
- Thales NS100 3D Surveillance Radar
- Kelvin Hughes Sharpeye Navigation Radar
- STELOP 360 o All-Round Surveillance System
- STELOP Compass D Electo-Optic Director

Weapons
- MBDA MICA Anti-Air / Anti-Missile Missile System
- Oto Melara 76mm Gun
- Rafael 25mm Typhoon Gun
- Oto Melara 12.7mm Hitrole Gun
- Remote Control Long Range Acoustic Device and Xenon Light
- Water Cannon System