a
Sea Air Space 2017 Online Show Coverage - Austal LCS Frigate
SAS 2017: Austal Unveils Updated LCS Frigate Design with 16x Anti-Ship Missiles
At the Navy League's Sea-Air-Space 2017 exposition currently held near Washington D.C., Austal USA rolled out an updated LCS Frigate design called the "Austal Frigate". The main modifications consist in a slightly shortened flight deck in order to fit anti-ship missile launchers and a variable depth sonar in order to add capabilities to the ship's aft.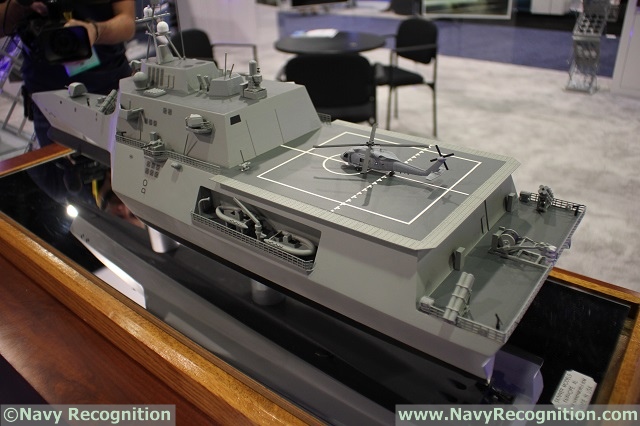 The new Austal Frigate features a redesigned stern to add capabilities to the ship's aft.

According to Austal USA, the Austal Frigate possesses increased lethality and high-speed shallow draft multi-mission combatant capabilities on a seaframe nearly identical to the Independence-class Littoral Combat Ship. This ship's ability to meet and exceed current US Navy requirements makes it one of the most cost-effective, maneuverable and flexible ships in the fleet.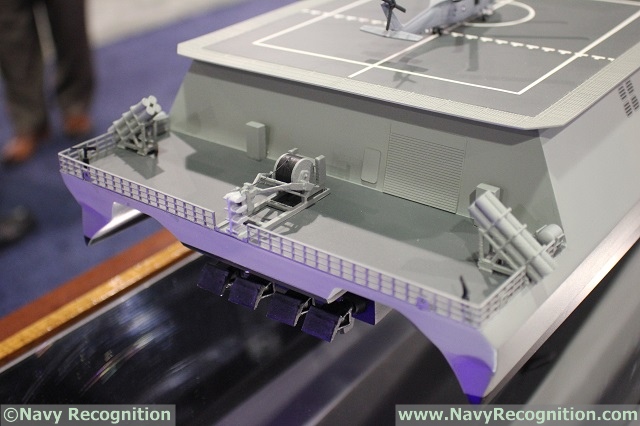 The new Austal Frigate features a redesigned stern to add capabilities to the ship's aft.
Thanks to the extra space at the stern, there are now 8x over the horizon (OTH) anti-ship missiles in additition to the 8x launchers fitted forward, for a total of 16x anti-ship missiles. An Austal representative explained to Navy Recognition that the increased number of missiles exceeds the minimum requirement expressed by the US Navy, but is in line with the distributed lethality concept and doesn't need additional development.

The new stern space is also fitted with a variable depth sonar and its handling system as well as a towed array.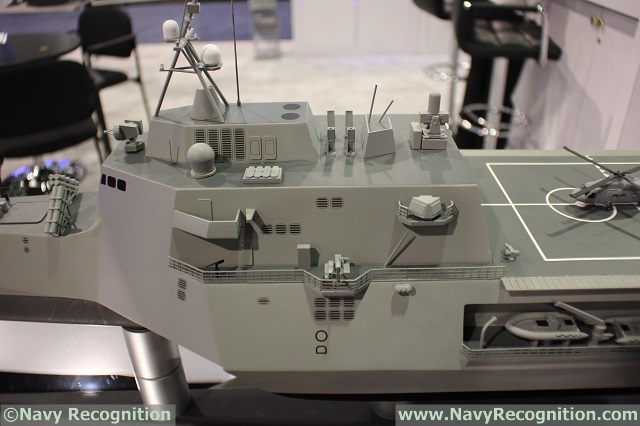 From left to right: 8x OTH missiles,

CEROS 200 fire control radar,

3D

radar,
Mk41 VLS, NULKA decoy launchers, MSI Defence 30mm RWS, SEWIP antenna, SeaRAM

The new Austal Frigate design features optional Mk41 VLS (16 cells) in addition to the SeaRAM launcher.

Austal insists on the fact that the seaframe from the maindeck down is virtually identical to the existing LCS design and retains its qualities in terms of performance and affordability.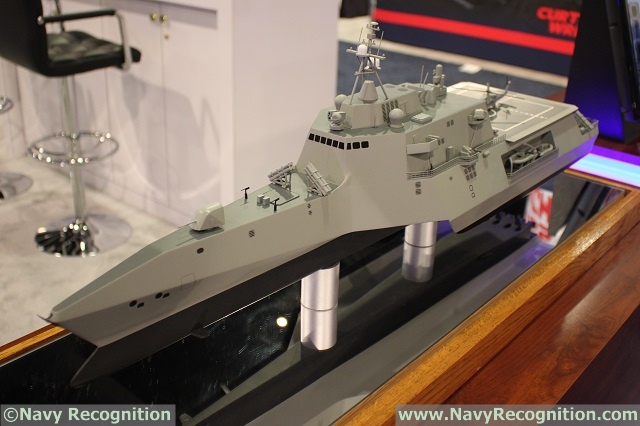 The new Austal Frigate scale model at Sea Air Space 2017
Austal Frigate specifications:
Length: 419 ft
Beam: 104 ft
Draft: 15 ft
Full load displacement: Approx. 3,500 Tons
Speed: More than 32 knots
Range: More than 4,300 nm @ 12 kts
Berthing: 130
Mission bay size: 7,000 square ft
Watercraft operations: 2x 7 meters RHIBS. Launch and recovery up to sea state 3
Flight operations: 1x H-60, up to sea state 5
Hangar:1x H-60 and 1x MQ-8C
Sensors: 3D search radar, 2x navigation radars, EO/IR fire control optics, variable depth sonar, multi-function towed array, electronic surveillance
Processing systems: COMBATSS 21 CMS, AN/SQQ-89 undersea warfare system, integrated bridge control system, automated machinery and damage control systems
Armament: SeaRAM, Mk110 57mm gun, 6x .50 cal guns, NULKA, 16x OTH missiles, 2x 25/30mm cannons, Helllfire AGM-114 missiles, torpedo countermeasures, 2x Mk41 launchers
Propulsion: 2x GE LM2500 gas turbines, 2x MTU 20V8000 diesel engines, 4x Wartsila steerabe, reversing waterjets.