a
Sea Air Space 2017 Online Show Coverage - Textron CUSV
SAS 2017: U.S. Navy Awards Textron Systems for Two Common Unmanned Surface Vehicles CUSV
Textron Systems Unmanned Systems announced today that it has received a $14.8 million contract to provide two additional fourth-generation CUSV™ vehicles for the U.S. Navy's Unmanned Influence Sweep System (UISS) program. The U.S. Navy intends to use these two CUSV systems as part of their comprehensive Mine Counter Measure Unmanned Surface Vehicle (MCM USV) mission, which includes mine-hunting and potentially mine-neutralization, as well as mine-sweeping.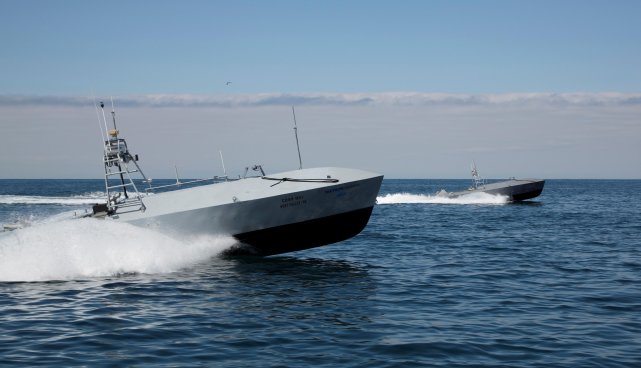 Textron Systems Unmanned Systems Common Unmanned Surface Vehicle (CUSV)

"The Navy is excited to continue to work with its industry partner, Textron Systems Unmanned Systems, to continue to develop, test and deliver additional capability to the fleet with the MCM USV platform and systems," Captain Jon Rucker, Program Manager for the Navy's Unmanned Maritime Systems Program Office (PMS 406) said. "The craft and its associated systems will provide a modular capability that will be a key component of the Navy's future mine countermeasures efforts."

These two additional CUSVs will join the U.S. Navy's first CUSV, which is designed for the influence sweeping mission. This UISS CUSV recently completed initial testing near Textron Systems Marine & Land Systems facility in Louisiana and is currently undergoing additional testing off of the east coast of the U.S.

"We are pleased to see the U.S. Navy's request for two additional vessels to support their mine countermeasure mission and are excited to be a part of the growing adoption of unmanned technologies in support of the U.S. Navy's mission to safely secure our waters" says Vice President of Control & Surface Systems Wayne Prender, "The inherent modularity that CUSV provides will enable the U.S. Navy to complete both mine-sweeping and mine-hunting missions from a single craft, demonstrating the CUSV system's multi-mission capabilities and large, configurable payload bay."

The CUSV is a multi-mission unmanned surface vehicle, capable of carrying multiple payloads, including side-scan sonar, mine neutralization, nonlethal weapons, and intelligence, surveillance and reconnaissance (ISR) sensors. Since its first demonstration in 2009, the CUSV has successfully completed several prominent exercises with the U.S. Navy. Today, the variations of the CUSV have amassed more than 2,000 on-water operational hours. The Textron Systems CUSV team includes its Marine & Land Systems business to leverage its 48 years of naval experience and proven ship-building capability, alongside the company's unmanned systems expertise.

Delivery of the two CUSV systems is expected in 2018.