a
Sea Air Space 2017 Online Show Coverage
Sea-Air-Space 2017 Expo Concludes with Call to Innovate
By Mass Communication Specialist 2nd Class Danian Douglas, Defense Media Activity
An estimated 11,500 visitors participated in three days of seminars and demonstrations by more than 290 exhibiting companies and organizations during the 2017 Sea-Air-Space Exposition, which came to a close April 5. Held at the Gaylord National Harbor Resort and Convention Center in National Harbor, Maryland, the U.S. Navy League-sponsored exposition highlighted the latest maritime-related technologies and solutions in the largest maritime exposition in the U.S.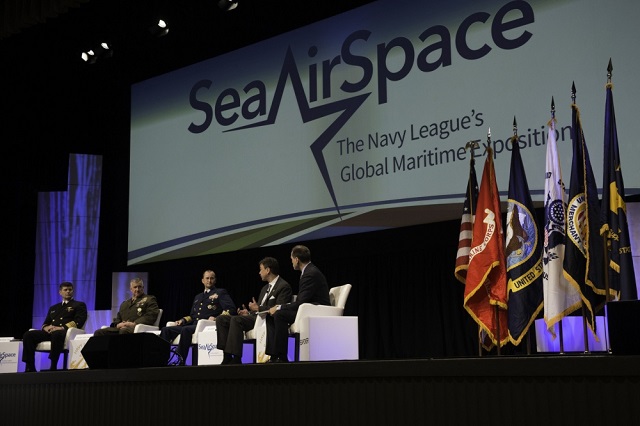 NATIONAL HARBOR, Md. (April 3, 2017) Vice Chief of Naval Operations (VCNO) Vice Adm. William Moran, left, joins a panel including the Assistant Commandant of the U.S. Marine Corps Gen. Glenn Walters, Vice Commandant of the U.S. Coast Guard Adm. Charles Michel, and Joel Szabat, executive director of Maritime Transportation, at the 2017 Sea, Air and Space Exposition to discuss a Sea Services Update regarding today's maritime enviroment. The annual event, founded in 1965, is the largest maritime exposition in the U.S. and brings together key military decision makers, U.S. defense industry representatives and private-sector U.S. companies to showcase new technology and discuss maritime strategy. (U.S. Navy photo by Mass Communication Specialist 2nd Class Danian Douglas/Released)

Acting Secretary of the Navy the Honorable Sean Stackley highlighted the value of partnership and innovation by remembering the Doolittle Raid of World War II.

"It would serve as the model for ingenuity and partnership for the watershed of innovation that would follow during the war," said Stackley. "As we talk this week of the need for urgency and innovation, as we look back upon the Doolittle Raid, it's fair to ask, could we pull this off today?"

Stackley noted the constrained budget and the highly complex and competitive security environments today, and reiterated that the Navy must meet these challenges by continuing to rebuild the fleet and reform the Department of the Navy's business model to be more effective, capable, and cost-efficient.

Speakers at the exposition also highlighted the importance of interoperability through better information and operations as a means to be more competitive.

"We have to get more competitive," said Director of Naval Warfare Systems Rear Adm. Michael Manazir during the naval warfare integration and interoperability panel. "We have to compete in this competition against high-end competitors who are chasing technology just like us."

"Information is the coin of the realm," Manazir continued. "You have to be able to move information around the battlespace faster than your opponent. You have to think faster than your opponent. You have to act faster than your opponent. We have to have agility in the electromagnetic environment."

Rear Adm. Nancy A. Norton, director of warfare integration for information warfare and deputy director of Navy cybersecurity, stressed that continued innovation is required to provide joint and international forces with the freedom to maneuver in the physical and virtual domains, as well as the cognitive domain.

"You can understand how important that interoperability across our forces - joint and coalition forces - is for that kind of shared situational awareness," said Norton. "That's across the electromagnetic spectrum and across cyberspace operations."

Norton painted the digital future of warfare by illustrating the need for a combination of both conventional and futuristic methods to include man-machine teaming, artificial intelligence and learning algorithms. Methods such as these, "enable us to rapidly do that kind of integration for our censored data for our ability to fuse all of that information," said Norton.

Interoperability across other land- and sea-based operations was also highlighted, with Director of Expeditionary Warfare Maj. Gen. Christopher Owens noting that the Marines are now refocusing on full integration aboard ships after a decade and half of primarily land-based operations.

"The Navy and Marine Corps have been working on interoperability and integration since 1775 ... but the things that we will need the Navy and Marine Corps to do together are far different than they were in the early years,' said Owens. "We are now executing distributed operations of our expeditionary forces like never before. We are working at developing the agility that we facilitate by retaining landing force command-and-control afloat, rather than always assuming we'll phase ashore, and of course integrating new equipment [like] when the F35-B comes to mind."

The exposition gave sea service leadership the opportunity to directly interact with industry representatives to discuss and debate maritime interests and concerns.

More than 100 flag officers, senior executive leaders and official representatives from 68 countries, including six top international Navy leaders participated in the event.