a
Sea Air Space 2017 Online Show Coverage - EMALS for India & France
Future Indian Navy and French Navy Aircraft Carriers Likely to be Fitted with EMALS & AAG
During the Navy League's Sea-Air-Space 2017 exposition held recently near Washington D.C., General Atomics was showcasing its Electromagnetic Aircraft Launch System (EMALS) and Advanced Arresting Gear (AAG) for aircraft carriers. Navy Recognition learned during the show that General Atomics received export approval for EMALS and AAG to the Indian Navy. The Brazilian Navy, French Navy and Japan Maritime Self-Defense Force have also shown interest in those technologies according the the company.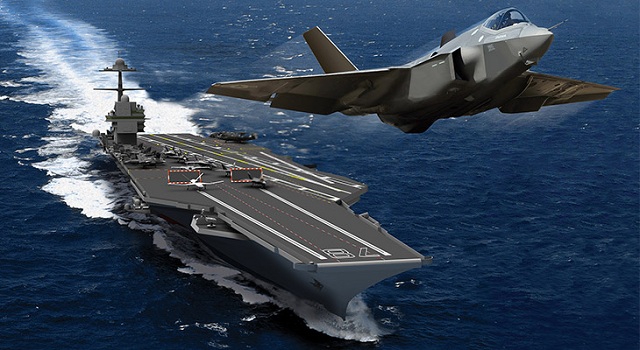 Electromagnetic Aircraft Launch System (EMALS) was fitted first onboard head of class USS Gerald R. Ford. Picture: General Atomics

The Electromagnetic Aircraft Launch System (EMALS) is designed to replace steam catapult system currently used on U.S. Navy aircraft carriers. Gerald R. Ford (CVN 78) is the first carrier to use EMALS. Due to its flexible architecture, the electromagnetic aircraft launch system can launch a wide variety of aircraft weights and can be used on a variety of platforms with differing catapult configurations.

The electric motor-based Advanced Arresting Gear (AAG) system provides for aircraft deceleration during aircraft carrier recovery operations. AAG allows for arrestment of a broad range of aircraft, reducing manning and maintenance, and provides higher reliability and safety margins. AAG's design uses simple, proven energy-absorbing water turbines coupled to a large induction motor for fine control of the arresting forces.
Video: General Atomics EMALS and AAG at Sea Air Space 2017.
General Atomics has in talks with India regarding export of both technologies for the Indian Navy IAC-2 program. The "indigenous aircraft carrier number 2" program is an Indian Ministry of Defence (MoD) project to build a 65,000-tonne aircraft carrier for the Indian Navy. In July 2015, a Letter of Request (LoR) was sent to at least four companies: BAE Systems, DCNS, Lockheed Maritn and Rosoboronexport. EMALS and AAG would likely be fitted on the American, French and British (if CATOBAR configuration is retained) carrier designs.

IAC-2 would then be the first Indian Navy aircraft carrier fitted with catapults and arresting gear, allowing for the launch and recovery of heavier aircraft including AWACS (Hawkeye).

General Atomics explained to us that both technologies are platform independent: AAG and EMALS will work on large or smaller carriers, nuclear or conventionally powered.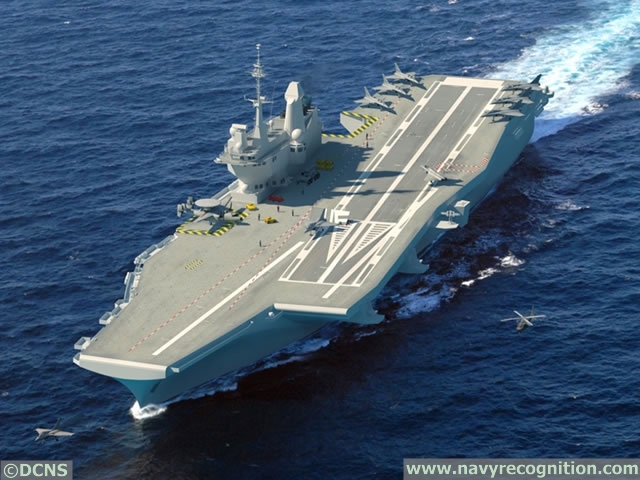 DCNS Evolved Aircraft Carrier (DEAC).
During Euronaval 2016, General Atomics and DCNS had discussions about EMALS and AAG for both the future French Navy (Marine Nationale) needs and export prospects of DCNS aircraft carrier design. In addition, we learned that DCNS CEO Hervé Guillou would visit General Atomics in San Diego this summer. During Sea-Air-Space 2017, Rear Admiral Chaineau, in charge of French Navy future programs, was at the head of a delegation which was briefed by General Atomics on EMALS and AAG.

General Atomics excepts the next step will be discussions between the French government and the US government about exportability, but with India getting cleared, export approval should not be an issue for France.

France is in the middle of elections right now, however the two candidates remaining for the second turn, Emmanuel Macron and Marine Le Pen, have both voiced their interest in acquiring a second aircraft carrier or aircraft carriers to replace the Charles de Gaulle:

According to La Cordeliere, Emmanuel Macron spoke of the rapid launch of studies on a new aircraft carrier so that it would be ready before Charles de Gaulle decommissioning by 2040. According to her program, Marine Le Pen promises to start building a second aircraft carrier called Richelieu, essential to the permanence at sea of the French carrier strike group.