a
Sea Air Space 2017 Online Show Coverage - Bougainville LHA-8
Video
: Future USS Bougainville LHA-8 Design by Huntington Ingalls Industries
During the Navy League's Sea-Air-Space 2017 exposition held last month near Washington D.C., Huntington Ingalls Industries unveiled the design of the future USS Bougainville (LHA-8).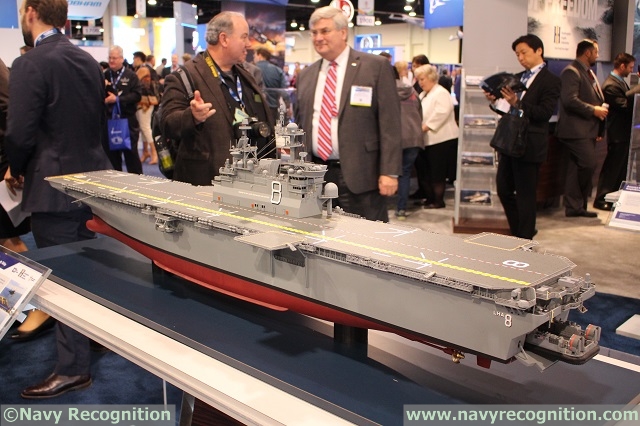 HII's LHA-8 scale model at Sea Air Space 2017.

According to HII, USS Bougainville (LHA-8) will be the US Navy's largest Amphibious Expeditionary Warfare ship, serving not only USN and USMC operations, but also joint missions. Bougainville will be the lead ship of the LHA replacement class, which is optimized for surface and aviation operatons. It will extend expeditionary warfare capabilities well into the 21st century. Bougainville combines aviation assault with V-22 and JSF capabilities and surface assault via well deck operations SSC and LCU. Ingalls Shipbuilding has been delivering these large deck combatants to the US Navy for over 30 years.

The future Bougainville will be the third America-class amphibious assault ship. It will share the same hull as LHA-6 but as the first Flight 1 "modification" vessel, LHA-8 will feature a well deck for ship-to-shore connectors. The well deck may receive two LCACs.
Video: HII Rolling out LHA-8 scale model at Sea Air Space 2017.
New Requirement Impact Summary:
1,000 compartments have been either added, deleted or relocated out of the 2,400 total compartment of the baseline design (America-class LHA-6)
- Addition of a 2x LCAC well deck
- Forward hangar high bay reduce by 28 feet (in length)
- Aviation support spaces relocated (01 level extended into hangar)
- Mezzanine added to 01 level
- Redesigned deck house
- Hospital complex moved forward
- Large sponson added on starboard side for increased flight deck area
- One troop berthing removed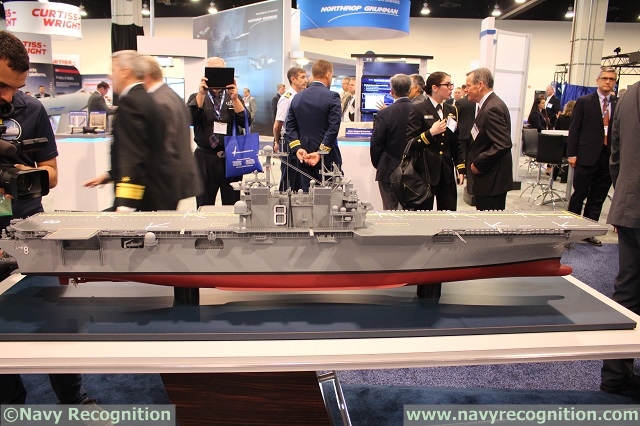 HII's LHA-8 scale model at Sea Air Space 2017.
Comparative specifications between LHD-8 | LHA-7 | LHA-8
Length overall (ft) - 844 | 844 | 844
Beam - 106 |106 | 106
Full load displacement - 41,772 | 43,745 | 43,329
Aviation Support (ft²) - 31,559 | 47,284 | 38,049
Cargo fuel, JP-5 (gal) - 585,000 | 1,330,000 | 585,000
Well Deck LCAC Capacity - 3 | 0 | 2
Hangar area (ft²) - 18,745 | 28,142 | 28,142
Vehicle stowage area (ft²) - 28,645 | 18,911 | 16,011

Accomm.: Officer | CPO/SSNCO | Enlisted | Total
Ship and Flag - 102 | 78 |1024 | 1204
Troops - 174 | 64 | 1224 | 1462
Troop surge - 19 | 6 | 125 | 150

Bougainville will be built by Huntington Ingalls Industries at its shipyard in Pascagoula, Mississippi and is expected to be delivered to the US Navy in 2024.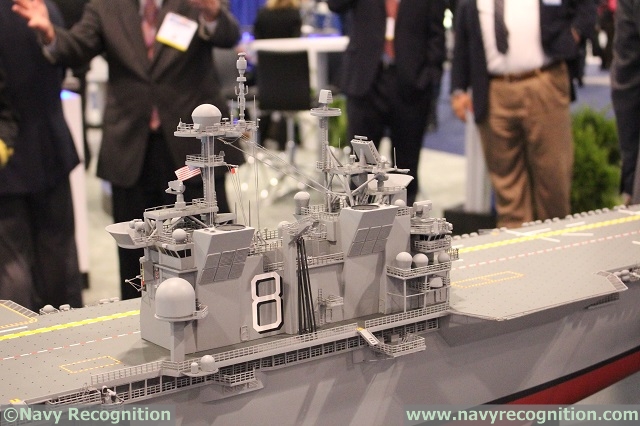 Two of the design features of LHA-8: A redesigned
(smaller but more efficient) Island and the addition of a large sponson for increased flight deck area.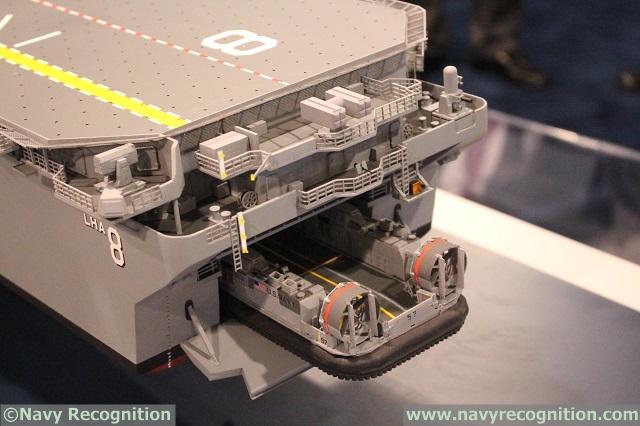 The main design feature of LHA-8:
The reintroduction of the well deck for 2x LCACs. Note the Phalanx, ESSM and RAM launchers all at the stern (from right to left).