---
During NAVDEX 2019, United Arab Emirates, Al Seer Marine showcased its Tamin series USV and its Hydra series USV. Both were present on the Al Seer Marine's booth, and the Tamin also was showcased outdoors.
---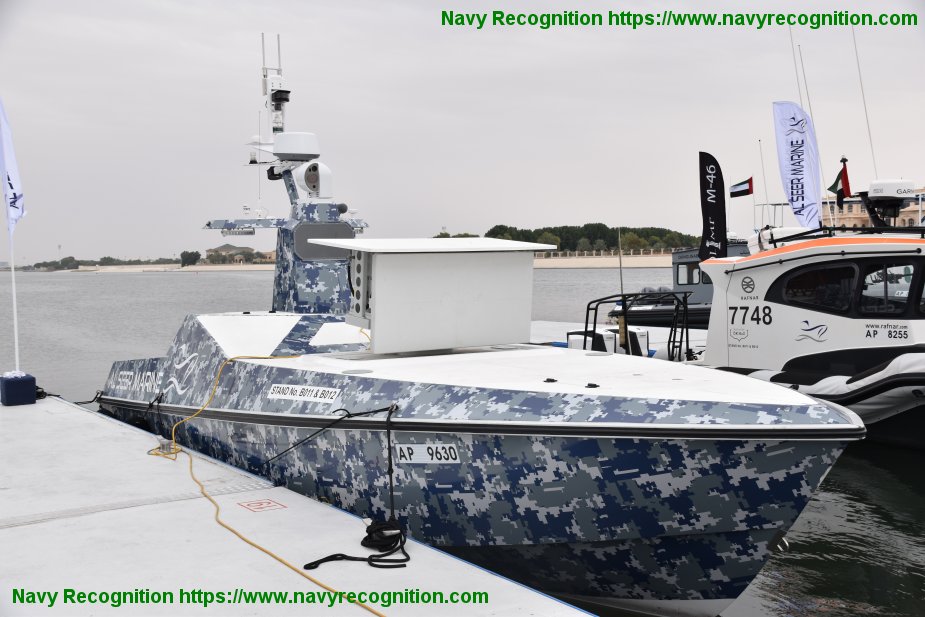 The Tamin USV at NAVDEX 2019, United Arab Emirates (Picture source : Navy Recognition)
---
The 11m Tamin series Unmanned Surface Vessel (USV) is an adaptable interdiction platform, fitted with control systems, obstacle avoidance (designed specifically to avoid water borne collisions) and optical arrays. This USV can also be fitted with an array of lethal and non-lethal payloads.
These USVs can be used for a multitude of commercial and defense operations such as environmental surveys and reporting, asset protection and patrolling, intelligence, surveillance and reconnaissance (ISR), maritime interdiction, force protection, search and rescue, and fire suppression (water cannon).
---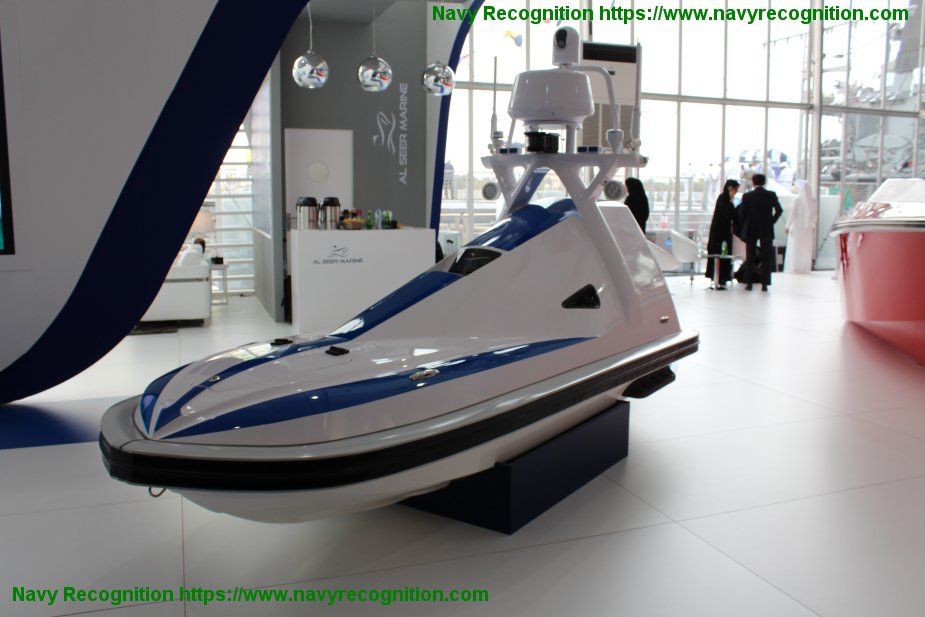 The Hydra USV at NAVDEX 2019, United Arab Emirates (Picture source : Navy Recognition)
---
The Hydra series USV is the smallest USV designed by Al Seer Marine. It is 4,2 meter long, has a weight of 400 kg and can reach a maximum payload of 250 kg. It is capable of enduring up to 21 hours of constant operation and has a range of up to 145 nautical miles. The vessel is capable of reaching speeds up to 52 knots.
It is a highly adaptable fast platform, able to be fitted with various systems such as radars, sonars, video cameras, NETNode Comms Suite, and lots of other sensors. It is accompanied with a Command & Control Station, in order to remotelly control the vessel.
Thanks to its short length, it can be carried and deployed from a Mothership when it is required, permitting navies to carry remotelly controlled reconnaissance and surveillance operations from their motherships, avoiding their personnel to being exposed to threats.
---