a
Barracuda class nuclear-powered attack submarine (SSN) - French Navy
Also known as Suffren class SSN - DCNS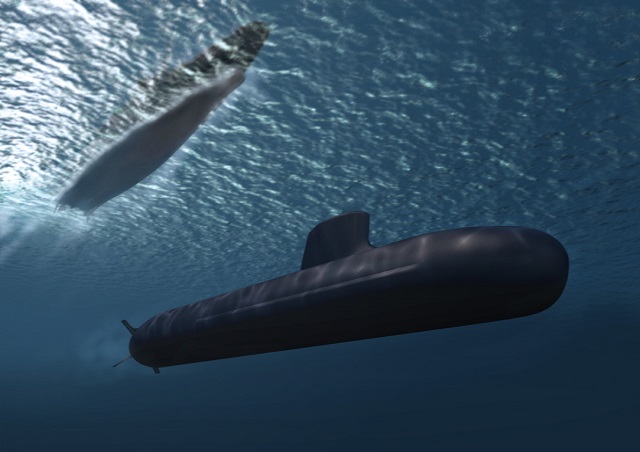 Picture: DCNS
Between 2017 and 2027, Barracuda-type SSNs will replace Marine Nationale (French Navy's) current-generation Rubis/Améthyste-class SSNs. The Barracuda program represents a vital contribution to the renewal of France's naval forces. The Barracuda submarine (Suffren class) was designed to be quieter than the current Rubis class SSN, even at higher speeds, with increased underwater detection capabilities and a larger weapons payload.

In December 2006, the DGA (French procurement agency) awarded the overall Barracuda contract to DCNS, appointing the group as program prime contractor and Areva-TA as nuclear power plant prime contractor. The firm order placed at the same time calls for the development and construction of SSN Suffren, the first of six Barracuda-type SSNs. The contract also covers through-life support for all six submarines during their first years of operational service. The second and third tranches, confirmed in 2009 and 2011 respectively, cover the construction of the second- and third-of-type SSN Duguay-Trouin and SSN Tourville.

Suffren, first of the new Barracuda class of nuclear powered submarine, will begin its sea trials in the spring of 2016 for delivery to the French Navy in 2017. Assembled in the shipyard of DCNS Cherbourg, the 99.5 meters hull is almost finished. The ships will be named after French admirals and famous sailors (Those names were already used in the past to name several French Navy frigates): Suffren, Duguay-Trouin, Tourville, Duquesne, De Grasse, Dupetit-Thouars. They will enter service between 2017 and 2027 at a rate of one every two years. The total program costs 8.5 billion euros.
Shiplist
| | | |
| --- | --- | --- |
| Name | Launched | Commissioned |
| Suffren | 2016 | 2017 |
| Duguay-Trouin | - | - |
| Tourville | - | - |
| Duquesne | - | - |
| De Grasse | - | - |
| Dupetit-Thouars | - | - |
Variants
-
SMX OCEAN:
A conventional diesel-electric SSK/AIP version based on the
Barracuda
with the nuclear propulsion replaced by a combination of diesel engine, new generation air fuel cells and Li Ion batteries.
Link to SMX OCEAN video.
Technical Data

Back to top
Design

The Barracuda pressure hull is made of 21 steel rings.
1- From left to right: Multifunction antenna for radio communications/SHF antenna for Syracuse 3 satellite link/wire antenna for radio/1st non penetrating optronic mast with ESM capabilities/Unknown/Navigation radar/2nd optronic mast.
2- Forward diving bars: Provides better maneuverability at periscope depth.
3- A dry dock shelter may be fitted for special forces support.
4- X-shape rudder: Provides better handling to the submarine while surfaced and underwater. The "pump jet" allows for higher speed before the onset of cavitation and lower acoustic signature.
Barracuda was designed to be quieter than the current Rubis class SSN, even at higher speeds.
Missions
» ASW
» ASUW
» Land attack
» Special operations
» Intelligence gathering
» Escort of aircraft carrier or LHD battle group
» Escort/Support of strategic oceanic force SSBNs

Weapons
» F21 Heavy Torpedoes
» SM39 Exocet anti-ship missiles
» MdCN Naval cruise missiles
» Mines
» Ability to deploy future UUVs
Sensors, Electronics, Decoys
Combat Management and Information Systems:
DCNS SYCOBS combat management system
Radars, ESM and sonars:
1x Navigation radar (Series 10 CSR by Sagem/Kelvin Hughes)
2x Optronic masts (Series 30 SOM & Series 30 AOM by Sagem for search and attack)
2x ESM sensors (one per optronic mast)
1x UMS 3000 hull sonar
2x flank array sonars
Thales S-CUBE integrated submarine sonar suite
Thales SEACLEAR mine and obstacle avoidance sonar
Thales VELOX-M8, broadband sonar interceptor
Thales NUSS-2F MK2 navigation echo sounder
Decoys/Counter measures/Jammers:
DCNS CANTO-S counter-measure system
Communications:
Link 11, 16 tactical data links
Thales DIVESAT SATCOM system
Thales TUUM-5 MK2 distressed submarine (DISSUB) communication system
Thales PARTNER communication management system
Engines/Propulsion/Power
Propulsion type: Nuclear - combined steam and electric
Engine: 1 x K15 nuclear reactor
Pump jet propulsion, single screw.
Emmergency thruster fitted at the bow (used as bow thruster for port maneuver)
Specifications

Back to top
Type

Nuclear Attack Submarine (SSN)

Crew

60 (+15 for special forces)

Operators

French Navy

Performance

Speeds: > 25 kts
Range: n/a @ n/a kts
Endurance: 90 days at sea

Designer / Builder

DCNS

Displacement

5,100 tonnes submerged / 4,650 tonnes surfaced

Diving depth

>350 m

Dimensions

Length: 99.5 m
Beam: ~8.8 m
Maximum Draft: 9 m




Back to top