a
Naval Industry News - Australia, France
Australia's Defence Industry Minister Visits DCNS Submarine Shipyard in Cherbourg, France

Australia's Minister for Defence industry, the Hon Christopher Pyne MP today met with senior management of DCNS in France to discuss progress on Australia's Future Submarine Program. As part of the visit, Minister Pyne also viewed the DCNS shipyard facilities in Cherbourg which follows the signing of the Design and Mobilisation Contract with DCNS in September of this year.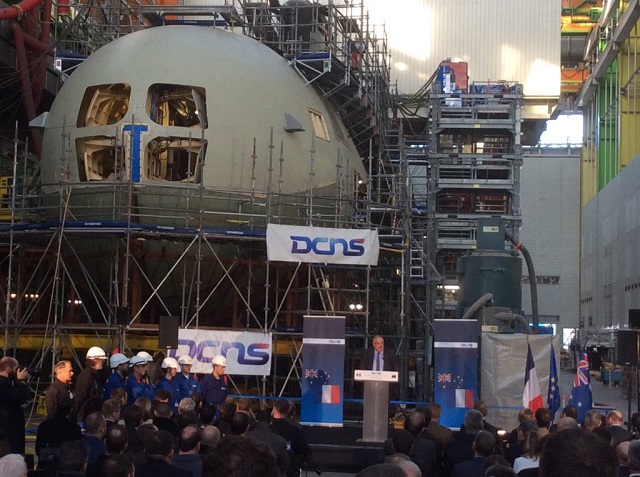 DCNS Picture
The meeting with DCNS executives was extremely constructive and there is no question in my mind that the company is singularly focussed on partnering with Australia to deliver a regionally superior Future Submarine, Minister Pyne said.

DCNS also understands the importance of Australian Industry participation in the Future Submarine Program during both the construction and sustainment phases to ensure a Sovereign Australian Submarine capability.

Based on analysis, the 12 submarines to be built in South Australia are expected to generate an annual average of around 2,800 jobs over the life of the program. A range of activities are underway to maintain the progress of the Future Submarine Program, including design work and the establishment of overseas facilities in France to provide training for Australians involved in the project, Minister Pyne said.

A number of key milestones have been achieved this year including the selection of Lockheed Martin Australia as the preferred Combat System Integrator for the Future Submarine. I expect the high tempo of activity to increase further in the New Year and remain confident in the partnership of DCNS and Defence, along with Lockheed Martin Australia, to work together to deliver the first of the Future Submarines ready for operations by the early 2030s.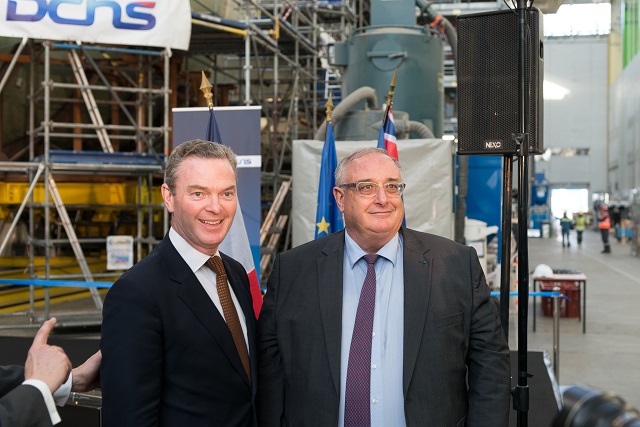 The Minister for Defence industry, the Hon Christopher Pyne MP today met with Hervé Guillou, DCNS Chairman and CEO. DCNS Picture.
Future Submarine Program:
The Australian Government has selected DCNS as its preferred international partner for the design of 12 Future submarines for the Royal Australian Navy. The announcement was made on April 26 2016 by the Australian Prime Minister the Hon. Malcolm Turnbull, the Minister for Defence, Senator the Hon. Marise Payne, The Minister for Industry, Innovation and Science, the Hon. Christopher Pyne and The Chief of Navy, Vice Admiral Tim Barrett. DCNS was competing with the Shortfin Barracuda design against TKMS' Type 216 and Japan's Soryu class designs. Based on the French Navy Barracuda SSN currently in final stage of construction, the Shortfin Barracuda is 3 meters shorter (94 meters) and 200 tons lighter (4,500 tons). In September, Lockheed Martin was selected as the preffered combat system integrator.