a

Sea-Air-Space 2017
International Maritime Exposition
Gaylord National Convention Center, National Harbor, MD USA
April 3 to 5, 2017
About Sea Air Space
The Navy League's Sea-Air-Space Exposition was founded in 1965 as a means to bring the U.S. defense industrial base, private-sector U.S. companies and key military decision makers together for an annual innovative, educational, professional and maritime based event located in the heart of Washington, DC.


The Largest Maritime Exposition in the U.S.A
Sea-Air-Space is now the largest maritime exposition in the U.S. and continues as an invaluable extension of the Navy League's mission of maritime policy education and sea service support.
Sea Air Space 2017: Why Exhibit?
Don't miss this opportunity to reach high-ranking, active-duty military and federal civilians with buying power. our competitors in the enterprise-wide supply chain for the U.S. Sea Services will be there—so should you. Showcase your products in a world-class facility, including outdoor and water displays.

Reasons for exhibiting:
» Thousands of active-duty, high-ranking officials from the US Sea Services
» Over 450 international military attendees from 68 countries
» 200+ exhibiting organizations
» 80,000+ sq. ft. of exhibit space
» 14 Sea Service Commands
» Dozens of media outlets
» Dozens of members of Congress

Sea Air Space 2017: Why Visit?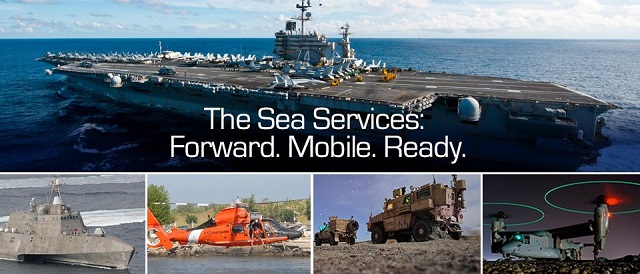 If the product is intended to enhance and advance the quality of America's Navy, Marine Corps, Coast Guard or U.S.-flag Merchant Marine, then it is on display at the Navy League's Sea-Air-Space Exposition!

Benefits to Attendees:
» Over 200 exciting and interactive exhibits showcasing the latest in maritime, defense and energy technology.
» Educational seminars and sessions at both the strategic and tactical levels and geared towards all of the Sea Services.
» Dynamic luncheon and banquet keynote speakers are provided an open forum to fully disclose up-to-the-minute information and paint a realistic picture of the future.
» Numerous networking opportunities with other leading professionals within the industry as well as key military personnel.
Navy Recognition is Sea Air Space 2017 Daily Video and Online Coverage


Navy Recognition is Daily Video and Online Coverage at Sea
Air Space 2017

Navy Recognition is producing daily video and online coverage for this year's show, providing another way for Sea-Air-Space exhibitors to get information out to a global audience before, during, and after the 2017 Exposition.



If you want your company press releases published in the Sea Air Space online show daily submit your files to:
pressrelease[at]navyrecognition.com or use this link

There is no charge to submit product and press releases for Sea Air Space 2017 to our team, but we can not guarantee that all press releases will be published.

Do you need some advertising and marketing services to increase your impact before, during and after the exhibition ? We offer Banner ads, Video Report sponsorships, Advertorials (text and video), Online Marketing, and more! Availability, details and pricing for these options can be found here.

Sea Air Space 2017 Official Website
The Sea Air Space 2017 official website offers complete information on the conference and exhibition.
Visit the website online at www.seaairspace.org

Usefull SAS 2017 links:
Contacts
Visitor registration

Sea Air Space 2017 Daily News

Back to top
Sea Air Space 2017 Daily News

Sea Air Space 2017
Online Show Daily News


Sea Air Space 2017 Show Information

Sea Air Space 2017
General information for Visitors & Exhibitors

Sea Air Space 2017
Pictures - Video

Back to top
Sea Air Space 2017 International Naval Defence & Maritime Exhibition & Conference
Sea Air Space 2017 pictures

Sea Air Space 2017 Pictures gallery


Sea Air Space 2017 Video