a
Diver Propulsion Device

The most widely used military-grade underwater mobility vehicle in the world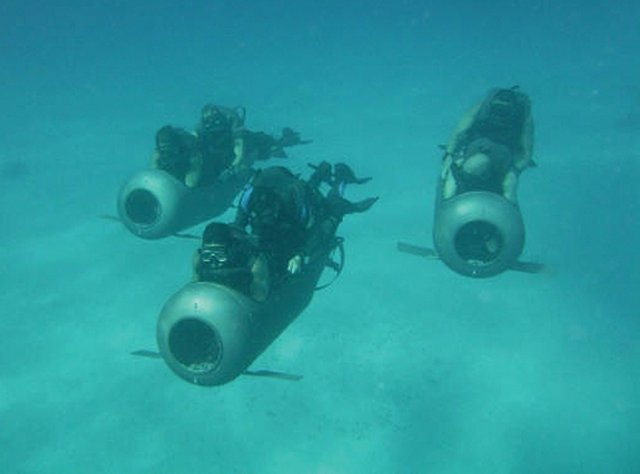 The STIDD Diver Propulsion Device (DPD) is the most widely used military-grade underwater mobility platform in the world. With hundreds of units in operation by maritime forces, the DPD offers combat swimmers a NAVSEA 9310 certified, ANU listed, underwater mobility system which is proven, fast, robust and reliable.
STIDD Systems
P.O. Box 87 Greenport, NY 11944
USA
Phone: +1 631 477 2400


This email address is being protected from spambots. You need JavaScript enabled to view it.
Depending on the mission and conditions, operators may need different combinations of speed, range, and payload capacity. STIDD now offers an expanded lineup of 3 different DPD models that will fit any profile.



Standard DPD
Standard Diver Propulsion Device The STIDD Diver Propulsion Device (DPD) is the most widely used military-grade underwater mobility platform in the world. The DPD enables divers to travel farther and faster with more payload than previously possible with any other diver propulsion device.

Standard DPD – Extended Range
Standard Diver Propulsion Device Top View With the addition of a second High Capacity "MUSCLES" Lithium-Ion Battery System, the Standard DPD with Extended Range Option effectively doubles the Range.

Dual Thruster DPD-XT
Diver Propulsion Device Dual Thruster The DPD with Dual Thruster (DPD-XT) provides operators not only additional speed and range, but also two independently redundant propulsion systems. The DPD-XT maintains all of the Standard DPD's exterior dimensions and certifications. The DPDXT utilizes two (2) standard DPD batteries which power two (2) standard DPD thrusters. For missions that require extended speed and range, the Dual Thruster DPD is an ideal platform.
3 Modes : Manned, Semi-Autonomous and Full Autonomous Mode
When equipped with the complete Navigation, Control and Automation System, the DPD's inherent speed, endurance, and payload capacity enable operators to conduct an unprecedented range of missions in Manned, Semi-Autonomous, Full Autonomous Mode all with the same DPD.

Precision Navigation, Control & Automation Precision Navigation, Control & Automation System for the DPD

Building on the legacy of its Diver Propulsion Device (DPD), the most widely used vehicle of its kind, STIDD designed and developed a system of DPD Navigation, Control and Automation features which enable a seamless transition between the DPD's Manned and fully Autonomous modes.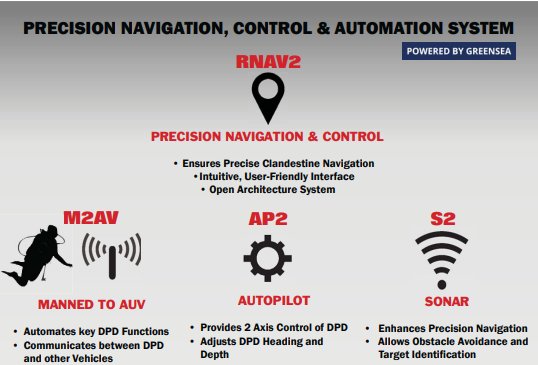 RNAV2, developed by STIDD is the backbone of this capability. RANV2 is powered by Greensea's patent-pending OPENSEA™ operating platform, which not only enables RNAV2's open architecture, but also seamlessly integrates STIDD's M2AV/AP2 Autopilot/S2 Sonar products into an intuitive, easy to use, autonomous system. When confi gured with the complete Precision Navigation, Control & Automation System including RNAV2/M2AV/AP2/S2, any DPD easily transitions between Manned, Semi-Autonomous, and Full-Autonomous modes.


RNAV2 is an innovative electronic navigation system that can be either mounted in the DPD to enable precision
navigation by divers, or without divers for AUV missions. The RNAV2 adjustable back lit 8.4" color LCD screen
constantly displays the operator's position on a high resolution moving map display for instantaneous situational awareness. Position accuracy of 0.25% over distance traveled is achieved through a suite of high-accuracy on-board sensors and an optimized Kalman filter. The RNAV2 is powered by an internal BB-2590/U Li-Ion battery which provides system power for 7+ hours. The simple to operate ergonomic input devices and user-friendly mission planning software allow all levels of users to create waypoints and routes and easily upload them into the RNAV2.

M2AV is a transformative system of vehicle control features that enable full remote autonomous control of the DPD.

The AP2 Autopilot Option provides exceptional RNAV2 control of the DPD by dynamically adjusting vehicle pitch and heading, automatically keeping the DPD on its programmed or manually selected course and depth, while accurately compensating for the effects of currents, diver motions, and changes in diver buoyancy.

The S2 Sonar Option for RNAV2 enhances the precision navigation capabilities of the innovative RNAV2, adding high quality forward-looking sonar images to the operator in low- and zero-visibility environments for precise long, or short range obstacle avoidance and/or target interrogation.

Other Accessories

CP2 Cargo Pod - Low-Drag Towable Capsule: The new CP2 DPD Cargo POD (p/n 4510-400), provides an
additional 12 cubic feet (340L) of cargo space with minimal additional drag, when towed behind the Diver Propulsion Device (DPD). Optimized for minimal drag using advanced CFD (Computational Fluid Dynamics), and extensively dive-tested under real world conditions, the Cargo POD is fabricated from marine alloy aluminum and hardcoat anodized for prolonged corrosion resistance and rugged durability. Neutral buoyancy is provided by hard-mounted rigid foam volumes in the nose and tail sections. The 21 inch (0.53m) diameter and 92.5 inch (2.4m) length are compatible with NATO submarine torpedo tubes.

Technical Data

Back to top
Design / Features
Material: Marine aluminum alloy
Finish: Hardcoat anodized
Hardware & fittings: 316L Stainless steel
Missions
» ISR
» Infil/Exfil
» Beach Survey
» Payload Delivery
» MCM
» CT - Piracy / Narcotics
» Over-Watch of CACHE site
» Near Land / Harbor Monitoring
» Deploy - Leave Behind
» Sensors /Arrays
» Search & Recovery Operations
» MUM-T Operations
» Rapid Environmental Assessment

Sensors, Electronics
M2AV: System that enable full remote autonomous control of the DPD
S2 Sonar for object detection, obstacle avoidance, situational awarness etc...
RNAV2 electronic navigation system
AP2 Autopilot
Engines/Propulsion/Power
Battery powered single or dual thruster
Specifications

Back to top
Type

SDV (Swimmer Delivery Vehicle)

Crew

2 divers (up to 4 for the DPD-XT)

Performance

Operational depth: 20 m
Speed: N/A
Battery endurance: N/A

Designer / Builder

Propulsion

Lithium-Ion Battery System

Dimensions

Length: 224 cm
Diameter: 61 cm
Weight : 72 kg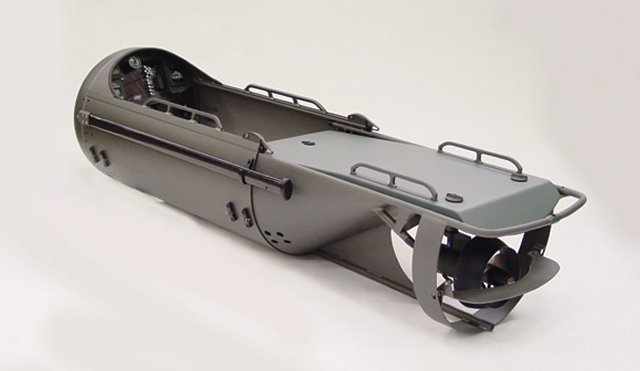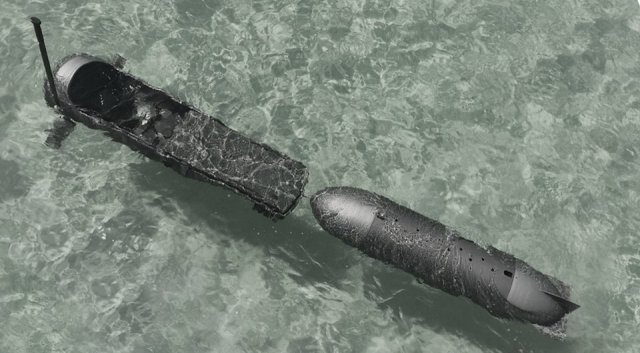 Back to top